Imperva delivers analytics, protection and response across all your data assets, on-premise and in the cloud – giving you the risk visibility to prevent data breaches and avoid compliance incidents. Technosprout is proud to partner with Imperva.
Rethink How You Protect Critical Business Data
Where is my data and what are users doing with it? Growing data volume and an increasingly fragmented technology ecosystem have made this an impossible question to answer.
Imperva's open platform integrates with any database so you can implement universal policies.
Most security programs take months to deploy, and that's assuming you have resources assigned. As a result, security can become a blocker to critical technology modernization projects.
Meet business SLAs with quick onboarding of databases at a low-cost and with low overhead.
Database security made simple
Gain immediate value
Pre-configured and extensible templates, policies, reports and more come "out-of-the-box" for quick, continuous compliance and risk management – with no manual/DIY work required.
Manage risk across all databases
Single pane of glass across distributed environments on-premise, in-cloud and multi-cloud to find ungoverned database instances, classify data, assess vulnerabilities, and investigate user activity.
Speed incident resolution
Detect both outsider and insider threats and automate response procedures.
Painlessly demonstrate compliance
Consolidate reporting operations and get cost effective multi-year retention of audit and forensic records
How database security works
Imperva Database Security unifies governance across on-premise and hybrid cloud environments and presents it all in a single view.
Advanced analytics find threats before they become a compliance or security incident. Built-in data Security Orchestration, Automation and Response empowers you to remediate findings quickly.
Security and compliance policies and controls are simple and centralized.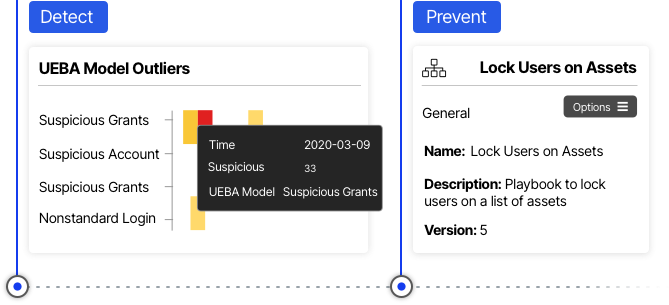 Are you ready for a better, more secure business?