Organizations are increasing software-as-a-service use, hybrid cloud infrastructure deployments, and multi-cloud deployment and interconnectivity. Whether oriented toward end-user access to applications and services or traditional data center access to branch offices and other remote locations, the need to make traditional data centers the hub of connectivity is more of a hindrance than ever before.
To address these challenges, Gartner has named a new service model, Secure Access Service Edge, or SASE. While businesses are going through digital transformation, the risk posed by the identity of the user/device becomes a central point. Therefore, there is a need for converged cloud-delivered secure access service edge of SASE. Gartner expects that "by 2024, at least 40% of enterprises will have explicit strategies to adopt SASE, up from less than 1% at year-end 2018." A SASE architecture identifies users and devices, applies policy-based security, and delivers secure access to the appropriate application or data. This approach allows organizations to apply for secure access no matter where their users, applications, or devices are located.
For organizations considering Secure Access Service Edge implementation, there are some key considerations. First, decide whether a unified strategy with a single provider for numerous critical services makes sense for the business. The primary benefit would be operational simplification and a smaller list of vendors and providers. Operational and financial costs being the major factor in decision-making.
Palo Alto Networks is paving the way with Prisma Access. It offers organizations, a cloud-delivered security service that enables secure remote access to all corporate applications. It can be deployed in a matter of days and can scale seamlessly to accommodate any number of remote workers.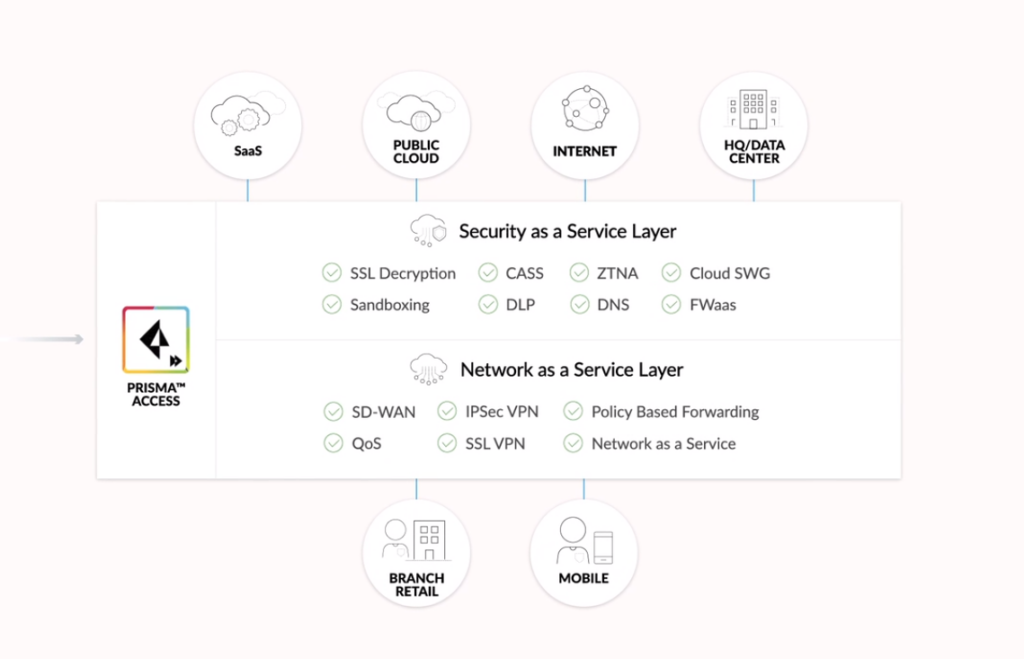 Additional benefits of Prisma Access, include: 1. Global availability across 100+ locations in 76 countries, which means users can work from anywhere in the world, and still be able to get secure access to corporate applications or resources in Data Centre, Public Clouds (Azure, AWS or GCP) or SaaS applications (like O366, GMAIL, SFDC etc). 2. Consistent security policy for users – whether in office or at remote location irrespective of BYOD or corporate device. 3. Integration with organizations existing security stack like identity and MFA engines, DLP etc.
Recently Palo Alto acquired CloudGenix. CloudGenix's cloud-delivered branch capability and application-centric approach will accelerate the Palo Alto Networks SASE vision. It will further enhance our SASE platform by integrating the CloudGenix SD-WAN product with Prisma Access, expediting the intelligent onboarding of remote branches and retail stores, and providing a seamless end-to-end solution to our customers. This combination will accelerate the enterprise shift toward the SASE model.
Technosprout, being a focused Palo Alto partner have developed deep expertise around Prisma Access and other cloud security offerings by Palo Alto, feel free to get in touch with us today for any assessment, architecting, or sustenance contract for Palo Alto Network's Product Lines.